OUT
OF THIS
WORLD
BY DESIGN
By Gary Delsohn

Futuristic shopping center on Douglas Blvd. features world-class architecture
Near the top of my list of things the world needs no more of, especially this part of the world, is strip shopping centers.
Much of the Golden State, after all, looks as if it was designed by crazed capitalists whose only ethic seems to be scheming up new ways to get us to spend, spend, spend while whizzing past life at 55 miles per hour.
Having said that, there is a new strip mall that deserves attention and praise.
It's called Rocky Ridge Town Center, on Douglas Boulevard in Roseville, and is brought to us by the same folks who gave us the new Arden Fair Mall and Market Square. The Friedman family, Mort, Marcy and son Mark, pay careful attention to detail and quality. It shows in everything they do.
Rocky Ridge is no exception. It has already given Placer County something it lacks - a retail destination that will be an enjoyable place to shop, browse, watch people and just hang out.
"This market is starved for upscale shopping," said Mark Friedman. "It's a terrific demographic area without a lot of places for people to spend their money." That, thanks to the Friedman's and their talented young architect, is being remedied. This center has the same quality of architecture as Market Square,which just won an award from the International Council of Shopping Centers for its design. Only four projects in the world received the honor and Arden Fair itself was similarly singled out in 1991. Rocky Ridge combines the Friedman's dedication to excellence and the ability to attract top retailers with the whimsical and playful work of young British architect Mark Dziewulski. The Princeton-educated Fulbright scholar gave up his part-time ambition to be a rock and roll star to move to Sacramento at Friedman's behest. He was assisted by the Roseville firm of Williams and Paddon, which did the construction drawings for the project.
Dziewulski first designed the sleek Virgin Records store at Market Square. Sacramento should be hearing a lot from him in the future. Rocky Ridge, as one friend put it, looks like something out of the old Jetson's cartoon show. Space age. Modern. Full of odd shapes and geometric patterns. Buildings curve and tilt. Arcades, glass, open storefronts - there is plenty to look at. The emphasis is on fun. And, of course, commerce.
This is, after all, just another L-shaped strip mall, fronted by a vast sea of asphalt parking set back so far from the street you might not even be able to see it - were it not for Dziewulski's eye catching design.
The centerpiece is - guess what? - a coffee shop, Starbucks to be precise. Round, topped with what looks like a big, white graduation cap, it is the heart of what Dziewulski says was an attempt to give the place the feel of a town square. Other brightly colored buildings are topped with triangles, circles and all manner of odd shapes.
It works. It sticks in the memory without assaulting you. This is not an easy thing to pull off in such an auto-dominated environment, but there is a sense of place that none of the other blue and red-roofed, cookie-cutter strip malls on Douglas achieve.
Dziewulski succeeds by incorporating his odd variety of facades and shapes to actually draw pedestrians through the center once they've gotten out of their cars. Like a traditional city street, some of the walls are broad and bare. Other facades, like the big triangle with a donut hole in its middle over Blockbuster Video, are more festive. It doesn't feel like 1,000-foot-long retail space, which it is, or 100,000 square-feet of stores. By using a variety of shapes and frontages, the center is broken up into several more digestible slices.
"A lot of strip malls, you rush in, buy something and you leave," Dziewulski said. "We basically want people to enjoy the place."
The center itself should work wonderfully from a retail standpoint. It has all the hot stores: Noah's Bagels, Starbucks, Fresh Choice, a restaurant surrounded by a ribbed trellis that will be thick with wisteria; Egghead Software and a huge 30,000-square-foot Border's Bookstore, a welcome new addition to the Sacramento region.
Sales at the new center, which is still not completely open - Borders remains a month or two off - are reportedly brisk, and people who shop here are taking notice. One way or the other. One young woman who was waiting for a friend at lunch said she didn't like the place one bit because it didn't fit in with any of the other buildings along Douglas. That, of course, may actually be a big compliment to the architect. She also thought the stucco architecture was more appropriate for a desert setting than a small city. More typical were the comments of Joe and Barbara Holly of Folsom, who sipped coffee recently at one of the outdoor tables near Starbucks. "We let so many lousy strip centers come to Sacramento," Joe said. "They look like hell. This is a huge improvement. It's really a good looking place." And from Barbara: "Finally. Noah's, Starbucks, a music cafe. In Roseville? This is great. Why go home?"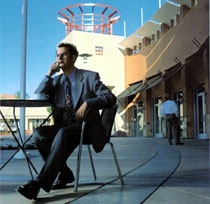 British architect Mark Dziewulski, above, contemplates the effect of his futuristic design, including the visual "town center" of the mall.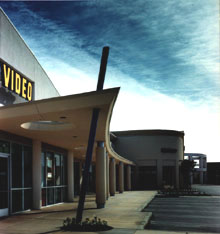 Huge geometric shapes add a delightful variety to the Blockbuster entrance in Rocky Ridge Town Center.